COMMERCIAL work include offices, retail, mixed use and industrial projects.
The Ramble
Owner: Biltmore Estate
Architect: Cutler Anderson Architects, Bainbridge Island, Washington
Location: Asheville, North Carolina
Completion: 2008
An 8,000 square foot development center, framed with wood and concrete. Custom timber trusses with steel rod bottom chords and specially fabricated heel to top chord connections were built on-site.
Nu Miss Office Building
Architect: Surround Architecture, Portland, Oregon
Location: Portland, Oregon
Completion: 2010
A LEED tated 30,000 square foot office building with post and beam construction.
Fitzgibbons Glass Company Building
Owner: Pettigrove Venture LLC
Location: Portland, Oregon
Architect: Stem Artchitecture, Portland, OR
Completion: 2007
A 20,000 square foot, 1920's era unreinforced concrete and timber framed structure was seismically strengthened to meet the modern requrements of the Oregon Structural Specialty Code. Additions to the building included an exterior elevator, a sun screen and canopy, and an interior mezzanine.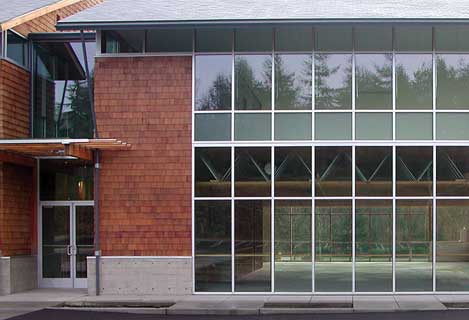 921 Hildebrand
Owner: Madison Avenue Development
Location: Bainbridge Island, Washington
Architect: Cutler Anderson Architects, Bainbridge Island, Washington
Completion: 2004
10,000 square foot, two story office building.The gravity system consisted of 60 foot long trusses spanning to an unsheathed 2x6 wood bearing wall that was spaced to align with a structurally independent curtain wall. The lateral force resisting system consisted of drag struts which transfer load to a central concrete core, integrated with steel braced frames around the perimeter.
Grand Central Baking Northwest
Owner: Grand Central Bakery
Location: Portland, OR
Architect: Emerick Architects, Portland, Oregon
Completion: 2007
Seismic strengthening and renovation of an existing 1920's warehouse into an office, retail, and shipping center for a local bakery